Virtual Tasting – Discover White Grapes Edition
March 30, 2020 @ 6:00 pm

-

7:30 pm

UTC+4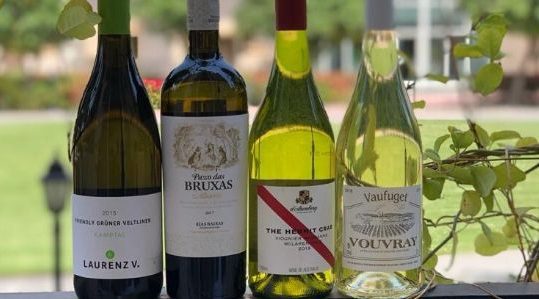 We've teamed up with A to Za'atar to deliver a series of fun, FREE, virtual tastings that you can join from the comfort of your own home. This event is called, 'Discover Something New: White Grape Edition' (more details below).

Here's what you need to know and do if you want to join.

Follow @TheTastingClass on Instagram or Facebook
Grab the same or similar product we'll be tasting – below are the grapes we have & some alternative ideas if you can't get the same.
Join in from home via Insta or FB Live, taste along and ask questions
The Tasting
1. Laurenz V. Friendly Grüner Veltliner, Austria (116 AED). Alternative bottle: Any Grüner Veltliner.

2. D'arenberg The Hermit Crab Viognier Marsanne, Australia (95 AED) Alternative bottle: Any Viognier at all. You're most likely to find it from France, Australia, Argentina or South Africa. Some French bottles are labelled by the region name, and Coindreiu is Viognier, even if it doesn't say it on the bottle. 

3. Pazo de los Bruxas, Albariño, Spain (98 AED)  Alternative Bottle: Any Albariño from Spain.

4. Vaufuget Vouvray, France (AED 88). Alternative bottle: Any Vouvray from France. 
Here's what you need to know and do if you want to join. 
Grab the same or similar product we'll be tasting – below are the grapes we'll start with & some alternative ideas if you can't get the same.
Join in from home via Insta or FB Live, taste along and ask questions
All the grapes have been sourced from MMI in Dubai and Spinneys in Abu Dhabi, who are offering a 10% discount off bubbles, grapes & spirits when you show this email in-store. However, if you're already well-stocked, just grab a similar bottle (suggestions below), such as the same grape variety, and join in!

If you're really into it, download some tasting aids too! Here are some free versions online:
– Folly Tasting Matt
– Folly Tasting Wheel 
You might also like these events